buy designer clothes, buy designer shoes, buy designer bags, buy designer accessories, buy designer sunglasses, buy designer jewellery, buy designer knitwear, buy designer swimwear, buy designer lingerie
list an item, sell an item, Apply for a boutique, get your unique shop web address, customise your shop, build your brand, create your own newsletter, get monthly statistics from your shopfront
advertise your items, promote your brand to a powerful audience of trend shoppers, develop media relations with the press
Marketplace | What's New | Magazine |
Shop by Brand & Category

Clothing

Dresses, Tops, Skirts, Trousers, Jeans, Knitwear, Jackets, Coats, Beachwear, Lingerie

Accessories

Bags, Shoes, Jewellery, Belts, Sunglassses, Other Accessories

Other

Lifestyle & Gifts, Cosmetics & Skincare, Art & Sculptures, SALE

ALL Boutiques

| Fashion Stylist | Fashion Blog | Shop All Clothing | Celebrity Looks | TV
Store Categories
Store Pages
Originally part of Selfridges department store, and having its first home on Duke Street in London in 1966, Miss Selfridge has grown to become an iconic brand in its own right.

The unique positioning of Miss Selfridge derives from its 'fashion only' proposition. Taking inspiration from vintage pieces gathered from all over the world by its team of buyers, each piece is crafted with special attention to details - ruffles, bows, fabrics and graphic prints - for a styling that is both individual and playful, but essentially feminine.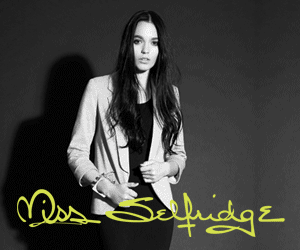 MSELFRIDGE
Thanks for visiting our Boutique on Stilorama, to start shopping please visit our main website.